<!- mfunc search_box_body ->
<!- /mfunc search_box_body ->
<!- mfunc feat_school ->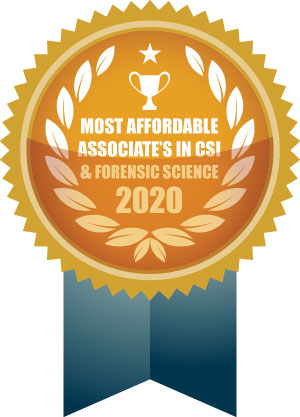 Crime scene investigations is a highly technical field based in rigorous science, making a formal education critically important to the job. With technologies like ballistics trajectory lasers and alternative light photography now in common use, technical training and a college degree are necessary first steps.
Forensic science, with extensive laboratory testing and analysis work, has similarly advanced. New techniques allow the analysis of tiny traces of biological or physical evidence, allowing sophisticated matching with DNA or chemical patterns to tie individuals or weapons back to specific crime scenes. It all requires advanced training in chemistry and technology to be effective.
Fortunately, you can still get the knowledge you need in CSI and forensics with a relatively small investment of time and money—a two-year associate's degree from a community college may be all you need. But with many two-year programs now ringing in at close to $20,000, pricing out your options is a wise idea.
The good news is that you don't have to compromise on quality to get the education you need at a reasonable price. You can find an exceptional value at accredited schools that offer CSI and forensics programs taught by experienced instructors – and we're here to make locating the best value in your area a little easier.
What is the Difference Between Forensic Science and Crime Scene Investigation?
You'll find associate's degrees in both crime scene investigation and forensic science offered at community colleges across the country. Depending on the individual program, you're likely to find a lot of curriculum overlap between the two. In fact, in some law enforcement agencies, particularly smaller ones, you will find forensics positions that involve both field and lab work.
But it's increasingly important to specialize in a field that is becoming more and more technical, which means that there are differences in preparing for evidence collection and investigations work that takes place at crime scenes, and the forensic investigations work that takes place in the lab.
Typically, programs that focus on forensic science will have more in-depth courses in basic sciences: chemistry, mathematics, biology, and physics. They will usually feature more lab time, allowing you to use and master important laboratory procedures designed to prevent sample contamination, while focusing on chain of evidence and analytical techniques.
Programs that are more focused on crime scene investigation will give you more hands-on exposure to the kinds of tools and techniques that are used out in the field—gathering trace evidence, considerations in scene processing, and working closely with investigators to ensure clean and well-managed scenes to preserve and gather necessary evidence.
It's possible to pursue either specialization with any of the degrees we list, but you'll find your path is smoother and faster if you focus your education on the type of forensics career you plan to engage in. That's why we feature two separate lists of best value programs:
What Types of Associate's Degrees Are Available in Forensics and Crime Scene Investigation?
All associate's degrees offer a curriculum built around two years of full-time study, usually hovering around 60 credit hours. There are some important differences in degree types, however, that may influence your decision based on your career goals.
Since CSI and forensics are science-based subjects, you'll find AA (Associate of Arts) options to be pretty rare in this field, with just a few ending up making this list. Science based AS (Associate of Science) and AAS (Associate of Applied Science) degrees are the standard in this field. The key difference between AS and AAS programs comes down to the ability to easily transfer credits to a bachelor's degree program down the road:
Associate of Science – AS degrees focus heavily on the science and technical aspects of a vocation, but includes enough liberal arts courses to allow them to be used as a transfer degree for advanced standing in a bachelor's program. If you plan to go on to earn a bachelor's to further develop your technical skills and forensic expertise, it's wise to go with an AS program.
Associate of Applied Science – AAS degrees offer less liberal arts education and are usually not transferable. They focus strongly on vocational preparation to allow you to take on significant job duties on day one after graduation. Most programs in these fields are AAS since a two-year program meets the criteria for most crime scene technician jobs. If your plans don't involve moving on to more technical investigations and lab work, then an AAS program is right for you.
Potential employers will not distinguish between the two degrees, but if you plan to eventually return to school and earn a bachelor's in forensics or a related field, then an AS is your better choice… If you're interested in learning as much as you can about the vocation in two years and don't have plans to complete a bachelor's program, then an AAS is a focused degree that will put you right in the deep end.
Forensic science degrees are similar, although, because the science core is often more robust, you can find those that will offer transfer opportunities even with an AAS program.
<!- mfunc search_btn -> <!- /mfunc search_btn ->
Affordable Tuition + Accreditation and Other Critical Components = Exceptional Value
Our exhaustive process to identify every affordable CSI associate's program in the nation started off by laboriously combing through the lists of schools to make sure that each of them hold the basic academic qualifications necessary to deliver a quality degree that employers, courts, and jurors will respect.
When You're Looking for Value, Cost is the First Consideration
After ensuring that all the schools met the accreditation standard, our major criteria for inclusion on the list was cost. We looked at the total in-state cost of tuition for each program and then compared it to the average for all similar programs in the state. Any school that came in below or at that average was a shoe-in.
In the interest of giving you the entire picture and to allow you to make a well-informed decision, we made an effort to be inclusive and avoid disqualifying programs from the list arbitrarily. If there was just one program available in the state, we included it as long as the cost was reasonable in comparison to those offered in neighboring states. We also included programs that are a little higher than the state average as long as they still represent a great value by meeting our quality standards while being close to the pack in terms of price.
You don't make a big decision like where to go to college just based on cost, though. Particularly in a highly technical field like crime scene investigation, you better be sure that you are picking a program that gets all the nuts and bolts right, delivering a science-based curriculum that truly prepares you for confronting the dark mysteries that haunt the crime scenes you'll have to process on the job.
Some of the other information we've included that can help you make your decision include:
Programs at Accredited Schools Come with the Assurance of Quality
Every program that made the list has been accredited by one of the six regional accreditation bodies recognized by the Council for Higher Education Accreditation (CHEA) and the Department of Education (DOE) for accrediting associate's college programs.
Those agencies are:
Middle States Commission on Higher Education (MSCHE)
New England Association of Schools and Colleges (NEASC)
Higher Learning Commission (HLC)
Northwest Commission on Colleges and Universities (NWCCU)
Southern Association of College and Schools (SACSCOC)
Accrediting Commission for Community and Junior Colleges (ACCJ)
Each of them puts schools through an exhaustive vetting process that includes self-evaluations, on-site checks, and poring over records and policy documents. It's a little bit like CSI: Academia.
Accreditation is a voluntary process, but a critical one—employers and other schools you might want to transfer your credits to will generally only accept degrees that have been awarded by accredited colleges.
Real Connections with Law Enforcement Agencies and Crime Labs/h2>
Programs that have strong ties to local or state law enforcement agencies and regional crime labs can offer you a lot more in the way of opportunities to make valuable contacts with active CSI staff and forensic scientists, while at the same time putting you in touch with potential employers. It also ensures that those programs are up-to-date on the latest trends and technology in the field.
We include information about whether or not programs offer internship placements or have advisory boards from local law enforcement and science professionals.
Experienced Instructors with Real CSI Backgrounds and Qualifications
It's equally important to have instructors who have been through the chaos of an active or recently cleared crime scene and can help you get the right mindset and perspective for handling those situations.
Professional law enforcement officers should get equal billing to academics in a good CSI program, so we note where programs have made it a priority to stack their faculty bench with instructors and speakers with a good breadth of real experience.
Hands-On Learning Including Lab and Field Work
The science behind a lot of common forensic technologies and techniques is fascinating, and you definitely need to understand the science and theory behind how it works. But you also have to get out and get your hands dirty to see how it all comes together in the real world.
We highlight when programs have significant lab and field work components that allow you to actually practice techniques in the lab and at simulated crime scenes to make sure you get it right when you get called in to do the work in the real world.
Best Value CSI Associate's Degree Programs of 2023
Best Value Associate's Degree Programs in Forensic Science