<!- mfunc search_box_body ->
<!- /mfunc search_box_body ->
<!- mfunc feat_school ->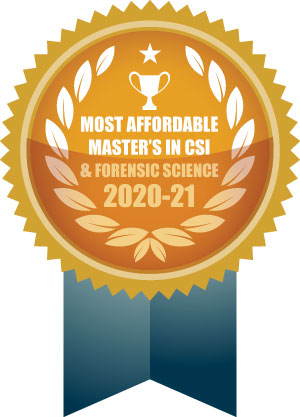 One of the reasons you are starting to see CSI everywhere these days—in both fiction and reality—is that the capabilities of the profession are so advanced and impressive. Detecting fingerprints with black light, tracking down suspects to decades-old murders with a trace of saliva left on a coffee cup, triangulating movements with cell phone signals and advance digital mapping technology… the future is now when it comes to investigating crime scenes and developing trace physical evidence into prosecutable cases.
But mastery of those high-tech tools and advanced scientific skills don't come easily. That's why earning a master's or a doctorate in forensic science or crime scene investigation is becoming a more and more common career choice in law enforcement and even in the private sector…
For anyone entering the field initially, an advanced degree starts you off with the kind of training and skills that otherwise take years to accumulate on the job. You get the deep scientific education and training on instruments and processes that today's forensic investigators rely on.
For anyone already working in the field, an advanced degree is the path to honing expertise even further and developing the kind of scientific and leadership skills necessary to advance to roles with greater responsibility.
Being prepared for those kinds of roles by earning a graduate degree comes at a considerable expense, which means finding an affordable program is job one.
CSI Work in the Field … or Forensic Science Work in the Lab
Although we're listing all affordable advanced degrees in CSI and Forensic Science together on this page, there are important differences in the programs when you reach the master's level.
That's because CSI education becomes even more focused on the evidence-gathering, processing and preservation that takes place on the ground at crime scenes … while forensic science studies become more intensive as it relates to the analysis and reconstruction of that evidence in the lab.
CSI programs at the master's level double down on the art of evaluating crime scenes, covering everything from blood spatter analysis to trace-evidence detection, and fingerprint lifts. They go further into the most advanced technologies available for those purposes, like digital and extended-spectrum photography, mapping technologies, and crime scene reconstruction software.
Forensic master's programs are typically more focused on raw science and laboratory processes. They ensure you have the right skills in instrument handling and sample preparation to avoid cross-contamination, ensuring you maintain the integrity of forensic evidence. You'll further develop your skills in natural sciences like chemistry and biology and learn how to use those skills in forensic applications like DNA analysis, fingerprint identification, toxicology, and ballistics. It all comes together to prepare you to be able to build an airtight case using evidence collected from crime scenes.
Few master's degrees are either all CSI or all forensic lab work, though. Most actually include some components from both areas of study, which only makes sense since crime scene investigators and forensic scientists work hand in glove toward a common goal. In fact, many law enforcement agencies have forensics teams that serve in both roles. Under any circumstance, familiarity with how evidence will be processed in the lab helps on-scene investigators collect and preserve it in a way that ensures optimal results in the lab … and lab analysts shape their analyses based on an understanding of how on-site investigators evaluate and document a scene.
The decision comes naturally for most people – you either have a career in law enforcement and a knack for investigative work out in the field … or you come from a background in the sciences that helps put you on track to handle the rigors of forensic lab work.
The title of the degree program isn't always a clear indicator of whether the program focuses more on CSI work in the field versus forensic lab work. We did the work of parsing out the programs to eliminate any confusion, organizing them into two separate lists here based on each program's primary focus and the kind of careers it will put you on track to pursue.
<!- mfunc search_btn -> <!- /mfunc search_btn ->
Affordability Doesn't Mean Compromising Rigor
Given that hard science forms the basis for both CSI and forensic lab work, these graduate programs are almost always structured as Master of Science degrees. You will find a handful of professional science master's degrees (PSM) as well.
These programs cover not only the kind of scientific and practical lab skills required for the job, but also other important aspects of professional training in things like ethics, lab management and delegation. They also place a strong focus on communication skills to help you become an effective leader and delegator, and capable of clearly articulating findings to detectives, prosecutors and even juries during courtroom testimony.
In many cases, the degrees listed here are expressly intended to prepare students to take on leadership roles as forensic science lab managers.
You don't have to give up anything to find a CSI or forensic science master's program at a good price. In fact, we found programs that made the cut based on affordability to be every bit as comprehensive, rigorous, and respected in the law enforcement community as the most expensive options out there.
Before we even began our tuition analysis, we started by making sure the programs we considered are going to give you a quality education and good shot at landing a job or promotion. You can't go wrong with any of the selections listed here – every single program on this list meets high standards for both quality and affordability.
Basic University Accreditation Standards
Although cost was our primary criteria when identifying programs, we don't feature degrees that cut any corners—criminal cases carry great consequences, and nothing less than a fully-accredited program is suitable for training professionals in forensic science.
Every program on this list is currently covered by one of the six regional accreditation bodies that are recognized by the Council for Higher Education Accreditation (CHEA) and the Department of Education (DOE). They are:
Middle States Commission on Higher Education (MSCHE)
New England Commission on Higher Education (NECHE)
Higher Learning Commission (HLC)
Northwest Commission on Colleges and Universities (NWCCU)
Southern Association of College and Schools (SACSCOC)
WASC Senior College and University Commission (WSCUC)
Each of these agencies puts schools through the wringer, demanding reams of forms and documentation before undergoing remote and on-site evaluations to ensure accreditation standards are met and maintained. Those standards apply to nearly every aspect of a modern college education, taking into account everything from grading standards to student appeals processes to curriculum development.
Accreditation is how you know that your instructors have gone through a rigorous selection process and that a school is adequately funded and capable of providing the right resources to meet the expected standards. Only schools that clear that high bar are considered adequate in the eyes of crime labs and law enforcement agencies hiring CSI and forensic science staff.
FEPAC Offers an Additional Level of Accreditation for Forensic Science Programs
There's another level of CHEA-approved accreditation that is available to forensic science master's degrees: program-specific accreditation through FEPAC, the Forensic Science Education Programs Accreditation Commission, which is the accrediting arm of the American Academy of Forensic Sciences (AAFS).
FEPAC has processes and standards similar to the regional accreditation agencies, but it focuses exclusively on forensic science (or natural science programs with a forensic concentration) and drills down on the elements of education that particularly apply to getting solid training in forensics.
At the graduate level, that means a rigorous look at program elements such as:
Core subject coverage
Graduate seminars
Research and capstone project standards
The agency goes so far as to distinguish between biology and chemistry-centric programs and those aimed primarily at digital evidence. With input from working professionals in the field, the standards FEPAC holds schools to reflect the current expectations of active forensic scientists.
FEPAC accreditation is important enough that we noted it for programs that hold it, but since the agency was only recognized by CHEA in 2012, very few forensic science programs have applied or been approved. So few, in fact, that we couldn't make it one of the minimum criteria for inclusion and still give you a representative sample of all the quality programs available at an affordable price.
We also note where labs have been ANAB (ANSI National Accreditation Board)-accredited or have posted that they follow AAFS curriculum standards, which is a precursor for FEPAC accreditation. ANAB accreditation does not speak to forensic science standards, but does ensure that the lab facilities where you'll be getting your training meet quality objectives for general lab work.
How We Identified the Most Affordable Advanced Degree Programs in Forensic Science and CSI
Our process for identifying the most affordable master's programs was straightforward: 1) We identified every single CSI and forensic science master's program offered through accredited universities in the U.S., 2) found the average cost in each state, 3) and included the programs in each state with tuition rates that generally fell either at or below the state average.
In cases where a state has both public and private universities, we've selected the most affordable in each particular category and labeled them accordingly. Because public and private universities have different funding sources and mandates, and often vastly different price points, we evaluated their respective costs only against other schools in the same category – tuition rates at state schools were only compared to the rates at other state schools… and tuition at private universities were only compared to the tuition at other private universities. That way we were able to present the most affordable public and private programs in each state to give you the full picture of the options available, without excluding programs through private universities, which are often considerably more expensive.
We've taken pains to note the best features about each program. Cost may be your bottom line, but you probably also want to consider aspects like:
Law enforcement agency connections
Current research and funding
Online and hybrid course options
Lab facilities and equipment
Instructor qualifications and background
Where available, we've noted every superlative element from each of the programs we've included, to make sure that you are able to find a low-cost forensic science master's program that fits your goals.
Most Affordable Master's Degrees for Forensic Crime Scene Investigators
Most Affordable Master's Degrees for Forensic Laboratory Scientists