<!- mfunc search_box_body ->
<!- /mfunc search_box_body ->
<!- mfunc feat_school ->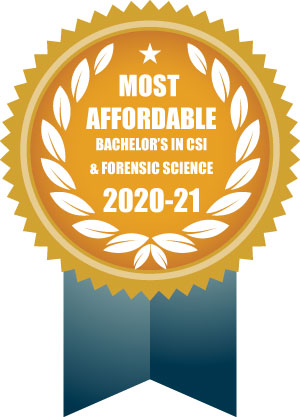 There's just no question that shows like NCIS, Law & Order, and the CSI franchise have wildly boosted the status of forensics experts in popular culture. The so-called "CSI Effect" has been driving increases in college enrollment in CSI and forensics programs since at least 2004, and the number of those programs offered at schools nationwide has been increasing to meet that demand.
As many experts in the field note, that's a mixed blessing. As most everyone knows by now, the downside is that TV shows don't paint a very accurate picture of life as a forensics tech and leave a lot of students who haven't done their own research lining up to drop big money on a degree that doesn't fit their expectations.
But the upside is big too. With the demand for bachelor's-educated forensics experts expected to grow at a blistering rate of 14% over the next decade (US Bureau of Labor Statistics, 2018), the field has genuinely been benefiting from the extra attention.
For serious students who are prepared for the realities of the field, the only thing left to do is figure out which program offers the biggest bang for the buck.
If that's an accurate description of you, then you've come to the right place.
The Differences and Similarities Between Degrees in Crime Scene Investigation and Forensic Science
There are both some blurry lines and some genuine differences between crime scene investigations degrees and forensic science-focused degrees, which is why we are breaking them out into separate categories on this page.
In general, degrees focused on Crime Scene Investigation will spend more time and teach more in-depth courses on the gritty realities of crime scene processing and evidence collection. They go into issues of cross-contamination, crime scene management, documentation, trace evidence detection and collection, and splatter analysis. They're aimed at technicians who will spend their time out in the field, dealing with the direct aftermath of crimes in the chaotic environment of a live scene.
Forensic science degrees, on the other hand, focus more on the analysis and comparison of evidence. They are more heavily lab-based and science-focused, often devoting a great amount of class time to core fundamentals in biology, anthropology, and chemistry.
Both the areas of overlap and the differences reflect the fact that in the real world of employment with law enforcement agencies and crime labs, there isn't always a clear distinction between the roles. Some agencies have forensics teams responsible for both sides of the crime scene and forensic investigations process, while in other jurisdictions field technicians work almost exclusively at the scene without ever setting foot in a lab, while forensic scientists are the masters of the crime lab domain.
Particularly at the bachelor's level, both types of programs will include elements from both sides of the field. You'll find that different schools have different emphases that tend to align with the way law enforcement agencies and crime labs operate within the state they're located.
At the end of the day, if you plan to make a career in the lab, a program off the forensic science list will be your best bet… but if you like the idea of scooping fluids into vials and taking pictures of bullet holes, a CSI degree will be more your thing.
Understanding the Types of Bachelor's Degrees That Are Available in CSI and Forensic Science
Partly because the various approaches to forensics education are so broad, you can find it under many different types of degrees. And as you would expect from any accredited bachelor's program, they will also include courses designed to fulfill requirements for the typical American liberal arts education… history, social studies, languages, mathematics, and literature.
Nearly all of them will fall into one of two categories:
Bachelor of Science – These degrees will tend to have a greater focus on laboratory practice and theoretical study in the hard sciences. Although they will meet bachelor-degree standards for a general, well-rounded education, more electives will have a science focus and core classes will tend to be highly technical in nature.
Bachelor of Applied Science – As the name implies, these degrees quickly move past theory to put more of a focus on learning how scientific principals are applied to real world problems. They are usually distinguished by having a leadership focus, making them perfect for career advancement or for anybody with management ambitions.
Bachelor of Arts – A BA program will lean hard into the liberal arts, offering more general electives in culture and general education, while core courses may involve more soft sciences like psychology and sociology.
Within those general categories, you'll find degree titles that include:
Criminal Justice
Chemistry
Anthropology
Forensic Biology/Chemistry
Biology
Criminology
Justice Administration
Forensic Science
Crime Scene Investigation
Public Safety Management
Legal Studies
Each of these programs will have a slightly different focus into aspects of the broad field of forensics and crime scene investigation, so it's worth paying attention to the curriculum. In many cases, the core degree program will focus entirely on the stated field, while the forensics elements will be offered as a concentration or minor addition. In such cases, you'll need to look at what is offered both in the core degree (you may have several choices) and for the minor requirements.
<!- mfunc search_btn -> <!- /mfunc search_btn ->
Accreditation for Bachelor's Programs in Forensic Science and CSI
Even though we focused on finding the most affordable programs in the country, there are certain basic standards they have to meet in order to qualify you for a role in forensics or CSI, so we set the bar for being included on our list at the same level. The idea wasn't just to show the cheapest programs out there without any verification of quality, it was to present a list of the most affordable high-quality, accredited schools that we could feel good about recommending.
After all, there's a lot on the line… you'll be responsible for building key evidence that could determine the guilt or innocence of suspects with years of jail time or even the death penalty awaiting them. A cut-rate, no-frills program just doesn't get it done.
That's why we ensured that every program we reviewed and listed here has received institutional accreditation at the very least from one of the six regional accreditation bodies recognized by the Council for Higher Education Accreditation (CHEA) and the Department of Education (DOE). They are:
Middle States Commission on Higher Education (MSCHE)
New England Commission on Higher Education (NECHE)
Higher Learning Commission (HLC)
Northwest Commission on Colleges and Universities (NWCCU)
Southern Association of College and Schools (SACSCOC)
Western Association of Schools and Colleges Senior College and University Commission (WSCUC)
This involved a full tuition analysis of more than 360 four-year public and private colleges and universities throughout the U.S.
These commissions exist exclusively to evaluate and assess colleges and universities for their compliance with generally accepted academic standards, in areas like:
Faculty selection and retention
Curriculum guidelines
Resources and facilities
Administrative support
Academic development processes
Schools undergo a multi-year review process, with periodic re-evaluations, including paperwork evaluation, site visits, and continuous improvement processes designed to ensure they offer a complete education acceptable to any American employer.
Specialty Accreditation for Forensic Science and CSI Degrees
Although it's not required by most crime labs, many schools on our list have taken an extra step to validate their forensics programs by aligning their curriculum with standards set by either FEPAC, the Forensic Science Education Programs Accreditation Commission or the American Chemical Society (ACS).
ACS-approval is only available for chemistry degrees, and focuses more on scientific and chemical standards than forensics. However, it's a sign that the facilities, equipment, and instructors are up to the task of teaching the most cutting-edge chemical science being explored today.
FEPAC offers accreditation processes similar to the regional bodies, but focuses on core elements of the forensics program specifically, including the subjects covered, and the rigor of research and capstone projects associated with the degree programs.
Since ACS-approval is restricted, and FEPAC has only existed since 2012, we haven't used either program as a qualifier for our lists, but we have noted the schools that have earned those credentials for your consideration.
Finding the Most Affordable Bachelor's Degrees in CSI and Forensic Science
After compiling the list of more than 360 accredited schools offering CSI and forensic science bachelor's programs in the U.S., we then set out to find the tuition rates for each one.
Identifying the programs worthy of being included among the most affordable was simply a matter of finding schools with tuition rates that came in well below the state average… if a school offers a degree at a price appreciably less than the state average, it made the list. That simple.
For the purposes of comparison, we put public and private schools in different buckets, and found the average for each category separately. Since the funding mechanisms are quite different and the educational standards can also vary, it really makes the most sense to compare like-to-like. State schools offer subitized in-state rates that private universities can't beat… but for international students and anybody who needs to look at options out-of-state, private institutions can often be the more affordable option. In the end, we included the least expensive options from each category.
In some cases, you will see schools here with rates higher than the national norms, but they still represent the least expensive option within their particular state. In cases where there is only accredited program in the state, we went ahead and included it to make sure you know all the options available to you, but only if the price was comparable to other options in neighboring states.
Along the way, we've noted all the best features and distinctive advantages that each program offers. Even though cost is king, we give you data on other noteworthy aspects of the schools, including:
Internship opportunities and requirements
Connections with local, regional, or national law enforcement or agencies and crime labs
Instructor qualifications and highlights
Research opportunities and funding
Laboratory facilities and equipment
Together, you get all the information you need to identify the right low-cost program in forensics or crime scene investigation to match your goals.
State-by-State Guide to the Most Affordable Bachelor's Degrees in Crime Scene Investigations
State-by-State Guide to the Most Affordable Bachelor's Programs in Forensic Laboratory Science