<!- mfunc search_box_body ->
<!- /mfunc search_box_body ->
<!- mfunc feat_school ->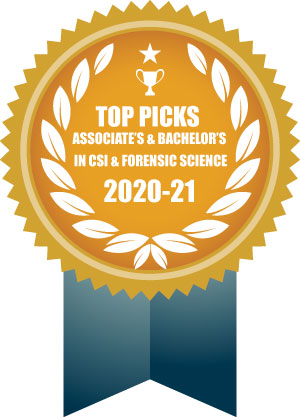 The real-world demands for professionals skilled in forensic investigations has never been higher… the U.S. Bureau of Labor Statistics estimates that positions in the field will increase by 14% over the next decade, a rate that far outpaces the average for all other professions. At the same time, interest in the field has been spurred by all the hit documentary series and TV shows that have raised the profile of crime scene investigators and forensic scientists, giving them an almost legendary status is the eyes of the public.
Even if the work they perform is the stuff of legends, it's a field that centers on hard science and that has no time for fiction. With new technology pushing the field further all the time, a college education is the only way you'll qualify to lend your talents in one of these roles to a law enforcement agency or crime lab. Whether you're using advanced GPS measurements to map crime scenes, calculating ballistic trajectories, or breaking down trace evidence with the latest DNA analysis techniques, you are going to need some pretty elite skills to get on the team in this field.
Associate's and bachelor's programs legitimately offer two distinct levels of career preparation, different in both the depth and breadth of the course content they offer and the experiential learning built into the curriculum. But since they share a common entry-point for high school grads with a limited work history, the two options are both worth weighing carefully with your career goals in mind.
A quality associate's program gives you options for building a forensics career, whether it's taking a crime scene or lab technician job right after you graduate, or using the credits to transfer to a bachelor's program as a way to further your knowledge and skills… If you step in at the bachelor's level, you'll get a high level of training and preparation that any employer is going to respect, while also opening the door to the possibility of more specialized training with a master's degree.
There are compelling arguments for both options, and a lot to consider in terms of cost, time and advanced study options before you make a final decision. Though we can't tell you to enroll in a two-year program or go all-in with a four-year degree, what we can do is present you with the very best options in both categories.
A Short-List of Programs We Feel Have It All
With all the competition out there, identifying the best programs isn't something that comes easy. And when you're new to the field it can be difficult to even know exactly what it is that makes one program better than another. Helping prospective students like you make that determination is exactly what we're here to do.
So we took the time to do a careful review of all the associate's programs offered at accredited community colleges, private vocational schools and other two-year institutions, and bachelor' programs offered at both state schools and private colleges and universities. In the process, we identified the things we have come to believe are the most important for undergraduates looking to take the first step toward their career goals; things like faculty experience, training facilities and technologically advanced lab equipment, as well as opportunities for meaningful hands-on experiential learning exercises with actual professionals working in the field.
In the end, we were able to nail down a very short list of what we feel are the top CSI and forensic science undergraduate programs in the country. Since we provide a very limited selection of schools here, just 13 total offering associate's and 43 offering bachelor's, this isn't intended to be a guide that will provide students in every state with an option to choose from. Instead, this list is meant to showcase the very best of the best, an elite few that provide strong examples of the kinds of things you should be looking for in the undergraduate programs offered in your area.
If you live in proximity to one of these programs, look no further … and if you don't see a program in your area listed here, look for schools that offer similar features and that show just as deep a commitment to creating an exceptional learning experience for every student.
<!- mfunc search_btn -> <!- /mfunc search_btn ->
Should You Earn Your Undergraduate Degree in CSI or Forensic Science?
There isn't a real simple answer to that question. It really comes down to exactly what your career goals might be, and even once you have that figured out, you'll need to look at how the schools in your area structure their programs so you can be sure they align with those goals.
Generally speaking…
Crime Scene Investigation degrees offer more emphasis on evidence collection, documentation, and preservation. Students learn how to use advanced GIS and forensic photography technologies to model scenes and recreate crimes, analyze blood spatters, collect fingerprints and trace evidence, and learn about chain of custody considerations.
Forensic Science degrees focus on lab-based processing and analysis of forensic evidence, as well as training in lab instruments and equipment. More hard science is taught, with the basics of biology, chemistry, and anthropology serving as a basis for detailed toxicological, DNA, and remains identification and analysis.
Do you see yourself peering into a microscope in a clean, well-lit lab, performing chemical analyses and matching trace evidence samples? If so, a program in forensic science is going to be best aligned with those goals… Or do you envision yourself stepping carefully through a still-smoky crime scene only hours after it all went down, carefully lifting prints and digging lead out of walls? If that's the kind of work that speaks to you, a CSI program is likely to be the right fit for you.
The rules aren't hard and fast, though. Some programs give equal weight to both aspects, which typically reflects how the forensics teams within the law enforcement agencies in those areas are structured. In some parts of the country, law enforcement agencies employ technicians who fill both roles, so in those areas the degree programs often give equal attention to in-the-field CSI skills and forensic lab work to meet the demands of those agencies.
Increasingly, however, the amount of specialization that each role requires means that agencies hiring to fill those positions more often look for candidates with a more focused degree and specialized training.
For that reason, it still makes sense to put CSI and forensic science undergraduate degrees into separate categories:
How Undergraduate Degrees in CSI and Forensic Science are Structured
Almost all undergraduate programs in CSI or forensic science are hard science degrees, so you can expect just about all the associate's programs to be structured as either Associate of Science (AS) or Associate of Applied Science (AAS) degrees, while bachelor's degrees are typically going to be a Bachelor of Science (BS).
The difference between these degree titles is an important one that may be relevant to your goals:
Associate and Bachelor of Science – AS and BS degrees deliver the right scientific and technical training to qualify you for technical positions, while still including a liberal arts foundation.
When we're talking about AS degrees specifically, they are typically designed to make it easy to transfer your credits to a bachelor's program at any point, and often even have agreements in place with local colleges and universities to make the transfer process even more streamlined. Transferability of credits is the key difference between AS and AAS programs, so if you think you may be going on to earn a bachelor's at some point, you could set yourself up to make the process easier with an Associate of Science program.
When it comes to credits earned in a BS being transferrable to a master's, there isn't anything to worry about. All credits earned at the bachelor's level are equally easy to transfer to a master's, especially one offered at the same school you attended for your bachelor's.
Applied Science Degrees – Associate of Applied Science programs, unless otherwise labeled with specific transfer agreements, are generally almost exclusively focused on the technical education required to land a job in the field. They are more traditionally considered technical or vocational degrees since the key focus of these programs is career training and job readiness, not transferability of credits. For this reason, the credits you earn are less likely to be recognized by four-year schools that offer bachelor's in CSI and forensic science. If you don't plan to go on to earn a bachelor's, an Associate of Applied Science is generally your best bet. Even so, the core science credits you earn in an AAS forensic science program may be robust enough that they could be transferred to a bachelor's in forensic science, even if other credits earned in the program may not.
Although you need to think about future education plans when selecting one or the other, you don't need to worry about your job prospects—either degree will qualify you for work in the eyes of any employer in the field.
Within each of those categories, you will find specific specializations reflected in degree titles that include:
Chemistry
Biology
Anthropology
Criminal Justice
Forensic Science
Crime Scene Investigation
Justice Administration
How Important is Accreditation for Undergraduate CSI and Forensic Science Degrees?
Accreditation is a big deal. In fact, it's important enough that the only programs we even looked at were the ones housed at accredited schools.
Basic institutional accreditation is a universal standard that every student should expect, but it's still important to verify. Any school worth its salt will hold accreditation from one of the six regional accrediting agencies recognized by the Council for Higher Education Accreditation (CHEA) and the U.S. Department of Education (DOE):
Middle States Commission on Higher Education (MSCHE)
New England Commission on Higher Education (NECHE)
Higher Learning Commission (HLC)
Northwest Commission on Colleges and Universities (NWCCU)
Southern Association of College and Schools (SACSCOC)
Accrediting Commission for Community and Junior Colleges (ACCJ)
Earning that accreditation means that these schools have jumped through a rigorous set of hoops in a multi-stage, multi-year process that requires them to assemble mountains of documentation, submit to interviews and reviews, and undergo on-site evaluations from strict auditors.
That means each of them have gone under the microscope and been found to have:
Quality instructor selection and evaluation processes
Ethical recruiting and advertising standards
Adequate administrative and funding support
Modern learning facilities and lab resources
Solid academic and curriculum development standards
Accreditation was just the first hurdle these programs had to clear. By starting our analyses with only accredited schools, we could feel confident that baseline quality standards were firmly in place… we then began the real work of identifying the very best of the best.
Picking the Best Undergraduate Degrees in Forensic Science and Crime Scene Investigation
We didn't expect programs to fit a mold in order to meet our requirements for being considered the best. For many of these programs, certain strengths come from unique elements that aren't found in any other program. Whether it's key research efforts, courses in subjects that are hard to find anywhere else, or studies in unique branches of forensic science like bioethics considerations in DNA analysis, you'll find something special in every program on these lists.
In the end, to find you the very best associate's and bachelor's degree in CSI and forensic science in the country, we scrutinized three key factors that allowed us to narrow it down to a select few.
World Class Instructors with Real-World Experience
Forensics is a constantly changing field that advances with the speed of technology. It's also a field where the scientific method and certain tried and tested strategies have been in place for decades. That means a vast range of know-how and experience is respected in the field.
An instructor fresh out of an internship and versed in the state-of-the-art in crime scene and lab technology most certainly has a lot to offer, but might not be able to provide experience-based context for how the technology will be used. On the other hand, an experienced investigator who has helped clear hundreds of cases, who currently works in the field, and who is respected as a consultant and contributor of research and literature, can provide valuable insights based on decades of experience that you just can't get anywhere else.
The key is to find a school that values both of these instructor profiles, making sure students learn under the guidance of professors that are masters of their individual domains. In an exceptional program with the best instructors, you can expect to learn the technological aspects of the job from professors that live and breathe technology, core sciences from instructors with a stack of degrees and research credits in the field, and specialty courses in forensics from instructors currently working with law enforcement to solve active cases.
When you get your education from instructors that fit these descriptions, you come out better equipped to deal with real-life challenges and actual criminal cases.
Meaningful Experiential Learning
Along the same lines, we looked for programs that have partnerships with law enforcement agencies with crime labs as well as larger multi-agency state and regional forensics labs. If a school is good enough to earn the trust of the law enforcement and forensics community, it's definitely one that deserves a second look.
Partnerships like this not only serve as a stamp of quality, they also provide a direct channel for high-quality practicums and internship opportunities. Experiential learning like this is your chance to get out and investigate the messy reality of crime as it actually happens. You'll get exposure to the latest technology in the field working side-by-side with skilled professionals who use the equipment in active crime scenes and labs every day.
These are the things we feel makes for the most meaningful practical training possible, giving you invaluable experience performing under pressure to process evidence for real cases with real stakes.
State-of-the-Art Laboratories and Innovative Training Facilities
Of course, you are going to have the best student experience when you are learning in a program that has the resources to put together a fully-equipped crime lab with the latest instrumentation and technology, along with lifelike simulations and other training environments. The very best schools offer elaborate and highly realistic mock-ups of crime scenes to recreate different scenarios, allowing you to gain expertise processing cars, houses, and outdoor areas. In some cases, top schools even offer real-world training that goes beyond simulations with long-term body farms.
Schools with the most advanced labs and facilities may, in fact, serve as the local, state or regional crime lab for area law enforcement agencies. At these rare schools, you'll have the unique benefit of being able to develop your skills in close proximity to the most skilled forensic scientists in your area as they work to develop evidence for active cases.
Training needs to align with what you'll be encountering in the real world. You need to be trained in lifelike environments to use the latest in high-tech crime scene processing and laboratory equipment if you're going to be competent, confident and ready once you get out in the field. Whether it's fully functional crime labs or meticulously reconstructed crime houses, the best programs give you what you need to learn the ropes and master the tools of the trade.
Editor's Picks for the Best Associates' Programs in Crime Scene Investigation for 2023
Editor's Picks for the Best Associates' Programs in Forensic Science for 2023
Editor's Picks for the Best Bachelor's Programs in Crime Scene Investigation for 2023
Editor's Picks for the Best Bachelor's Programs in Forensic Science for 2023